Sherman, Texas – The annual Sherman Art League (SAL) Fine Art Show and Sale will be held at the Sherman Municipal Ballroom at 405 N Rusk, September 15-17, in conjunction with the Sherman Arts Fest.
Artists over the age of 18 are encouraged to participate in the show. The flyer and entry forms are available online on the Sherman Art League Facebook page and at www.shermanartleague.com under "view and print the rules and the registration form". In print, they can be picked up at the Sherman Visitor Center and the Sherman Public Library. Entry forms must be mailed to PO Box 222, Sherman, TX 75091, postmarked by Thursday, September 8th. The entry fee is $40 for members and $55 for non-members, for a maximum of 5 pieces. Artists can register on registration day, but a $10 fee will be added. Additional requirements are set out in the prospectus.
Pat Pierce gives a painting demonstration at last year's exhibition.
Art drop-off time is Thursday, September 15, 10:00 a.m. to 1:00 p.m. at the Sherman Municipal Ballroom. Membership in the Sherman Art League is also available at the time of registration, although it is not required to participate in the show.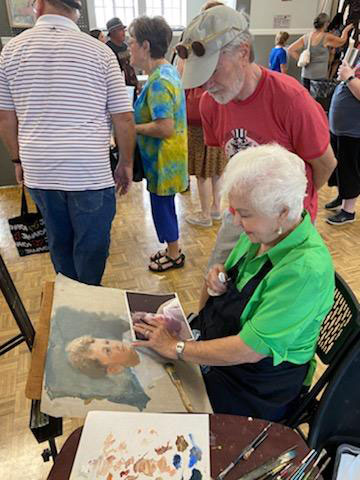 Pat Pierce gives a painting demonstration at last year's exhibition.
Artwork will be accepted and judged in the categories: (1) Realism/Traditional, (2) Abstract/Contemporary, Mixed Media and Collage (3) Photography/Digital (4) 3-D. Prizes totaling more than $1,000 will be awarded. There will be a reception on Thursday evening September 15 at 7:00 p.m., where the judge will comment on the work. The reception is free and open to the public and refreshments will be served.
The show's judge will be Joe Conner. Originally from England, she now resides in Gainesville, Texas. She is a collage artist and is currently president of the Gainesville Area Visual Arts organization. Her formal education began in Cambridgeshire, where she studied fine art design, textiles, printmaking, pottery, photography and metalwork. She then went on to study at Suffolk New College also in England, studying illustration and graphic design.
In addition to the reception on Thursday evening, the show will be open to the public on Friday September 16 from 9:00 a.m. to 5:00 p.m. and on Saturday September 17 from 9:00 a.m. to 4:00 p.m.